Notifications
Introduction
Welcome to our documentation on how software update notifications work.
Getting started
In the Notification Settings section you will find all kinds of notifications. Depending on the license, not all are available, Here you can check what kind of notifications are enabled for you.
Check plan
---
Different types of notification settings
The overview page of the favorites shows the different states of the notifications. This makes it easy to check how a favorite is notified in the event of a software update.
The different statuses can be Default . Then the settings are taken from the individual notifications. If Disabled , this favorite will not notify in case of a software update. If the notifications are set individually in the favourites, the activated ones are listed individually. As in the example of Opsgenie and MSteams .
It is possible to activate or deactivate the notification via the bell.

---
Default Notifications
The notifications can be set individually for each favorite. The default notifications are used for each new Favorite.

If the default notification is deactivated, individual notifications can be activated. In addition, it is still visible which notification is activated by default. In this example, only the e-mail notification has been activated. No other notification is used.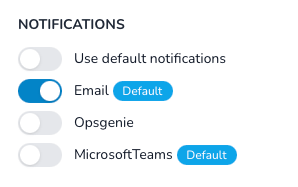 Once the notifications have been adjusted, they must be saved.